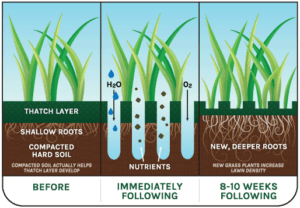 Lawn aeration involves perforating the soil with small holes to allow air, water, and nutrients to penetrate the grass roots.  This helps the roots grow deeply and produce a stronger, more vigorous lawn.  This is absolutely necessary here in Montana as root systems creep higher and closer to the surface to receive water and nutrients during the winters.
Why Aerate Your Lawn?
The main reason for aerating is to alleviate soil compaction.  Soil compaction is the compression of soil particles.  Compaction reduces the total pore space of soil.  More importantly, it significantly reduces the amount of large pore space, restricting air and water movement into and through the soil.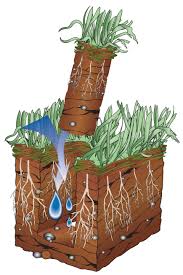 Spring Aeration 
As the grass emerges from the winter snow and strives to grow and flourish, the tough Montana soil does not have too much to offer the little grass roots in shelter and nutrients.  However, aeration gives your grass its best chance to become lush, green, and thick.
Fall Aeration
By the time fall rolls around, the perforations from your spring aeration have usually filled back in with grass seed and soil.  Fall aeration gives your lawn its best chance to get oxygen, nutrients, and water into the soil through the winter months.
Contact Us to Schedule Your Lawn Aeration Today!